July 2, 2014
The Adult Social Care Outcomes Toolkit has been developed by the Personal Social Services Research Unit over a number of years. The ASCOT measure is designed to capture information about an individual's social care-related quality of life (SCRQoL). The aim is for the measure to be applicable across as wide a range of user groups and care and support settings as possible.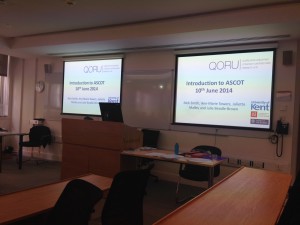 PSSRU have just completed the successful delivery of ASCOT training during June. It was clear from the varied nature of the delegates attending the training courses how far ASCOT is reaching. There were colleagues from the Diakonia University in Finland, who are looking to train on their own translated version of ASCOT in Finland, as well as academics from Northern Ireland also. Colleagues from the Health and Social Care Information Centre (HSCIC) attended. Staff from various county councils were present, working with clients across Learning Disability, Physical Disability and Older People's services. Health professionals from the Royal Chelsea Hospital also attended to see how they could bring ASCOT into their service.
Feedback from the training courses was very positive with one delegate commenting on the "excellent delivery, very informative, content just the right level, very interesting, excellent range/balance of activities/listening." Another remarked that the "trainers were engaging and excellent at pitching the information at the appropriate level."
The ASCOT website gives extensive details of the variety of instruments and data entry tools available for use along with detailed guidance on each. We also detail the future developments we are working on for widening the toolkit further. These include designing an easy-read version of the tool, a version for completion by proxy and a version suitable for use outside of care homes. There is also the opportunity to share experiences of the use of our ASCOT tools on our forum and a useful section for frequently asked questions.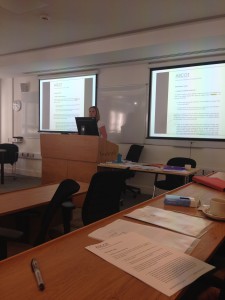 We want many more to benefit from ASCOT and would encourage people to pass these details on. As was reflected in a recent Guardian article, David Brindle comments that "social care has been slow to develop a proper evidence base. Too often the excuse is that benefit, particularly in terms of preventing the need for costlier interventions, cannot be measured. Useful tools like the ASCOT measure of quality of life of people receiving care services are under-used and not widely known."
If you are interested in finding out more about ASCOT and how your service can benefit from it or in attending one of our training courses you can:
call us on 01227 824967
or email us at ascot@kent.ac.uk
or visit our website for more details: www.pssru.ac.uk/ascot.