November 25, 2015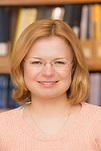 By Kamilla Razik, Research Assistant at PSSRU Kent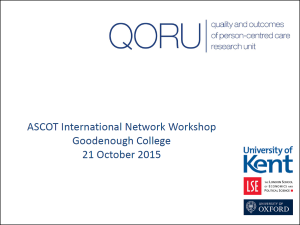 What is ASCOT and how is it used in the UK?
The Adult Social Care Outcomes Toolkit (ASCOT), a measure of social-care related quality of life (SCRQoL), has been developed at PSSRU over a number of years and research projects. It has become a popular tool for measuring SCRQoL in the UK. It is used both by local government and providers for quality improvement and review and assessment, and by the UK central government to measure and monitor the effects of social care on people's lives through the Adult Social Care Outcomes Framework (ASCOF).
Growing international interest
Since the development of ASCOT, international interest in it has been growing, but in the last few years, we have seen a rapid increase in interest and use. The instruments have been translated into a number of languages and new translations are under way. ASCOT has been used internationally in research, policy and practice.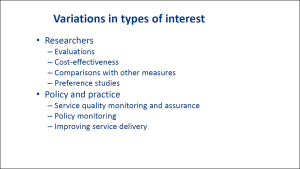 ASCOT International Workshop
To reflect this international interest, we held an ASCOT International Workshop on 21st October in London. The aim was to get the international audience interested in or already using ASCOT an opportunity to learn about recent developments, share views and experiences, and to discuss how ASCOT could be used in other countries. Delegates attended from countries as far as Poland, Greece, and Japan, among others. The workshop was introduced by Prof Ann Netten with an overview of ASCOT developments internationally. This was followed by presentations about how ASCOT is being used in research in the Netherlands  by  Dr Karen van Leeuwen, in Italy by Dr Gaia Cetrano, and in an international project covering Austria, Finland and England by Prof Julien Forder (on behalf of Juliette Malley).
Interest in Japan
One country which has shown an increasing interest in ASCOT is Japan and we were pleased to see a Japanese delegate at the workshop. Prof Takahashi and colleagues from University of Tsukuba are involved in a study looking to establish what factors are important in preventing admission to residential care and how local government can be helped to evaluate policy and practice to enhance social care. In addition, we have recently found out about plans to translate ASCOT service user version and the new ASCOT Carer version into Japanese and are very excited to hear about the progress of these projects.
Challenges to support
We are very happy to see this expansion of use of ASCOT internationally. However, ASCOT is a small team and this increase in interest has posed some challenges to our resources. We are therefore in a process of developing a licensing system that will deal with ASCOT enquiries for use and support more efficiently. The new process is in early stages still but we envisage that ASCOT will remain free of charge for non-commercial use (but a requirement for a licence agreement will be introduced).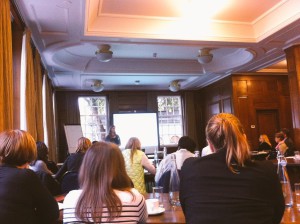 Until next year!
ASCOT International Workshop was attended by 25 international delegates, which reflects ASCOT's growing presence in the international arena of long-term care. We are thankful to the speakers for their time and to all the delegates for their attendance and we look forward to seeing them (and many more!) again at the next International Workshop in 2016.