May 9, 2014
We won! Produced a poster as an experiment to see if a journal paper and report can be presented as a visual note, LSE Research Festival's call for submissions came around … so randomly submitted our poster … was accepted for the exhibition … never expected a poster that is not exactly a traditional academic poster to win … but we did and had excellent feedback to boot! PSSRU at LSE Administrator Anji Mehta tells the story.

I've been working with PSSRU for a number of years and have seen some excellent research being produced and disseminated by a group of expert researchers. Over the last couple of years we've been exploring new ways to make sure our research is also made available in non-academic ways too (and had a lot of fun experimenting). And the readiness of colleagues to engage with different ways of communicating with external groups and presenting their research findings in non-academic ways alongside their journal papers has been brilliant to see. It's great to see that not only are they producing journal articles (c.564 since 2004 at LSE!) and other reports (c.196 since 2004 at LSE!) but are getting engaged with a growing number of "knowledge exchange and impact" initiatives we have sprung on them. We have internal groups working on methods such as poetry, comic books, videos, infographics and animation to present PSSRU's research, and I for one am really excited to see what they come up with; regular discussions on our knowledge exchange strategies; and are improving our use of social media (to give a few examples).
One such experiment has been the use of infographics. It's a widely used method for presenting information and we wanted to see if it was possible to condense complex information from reports and journal papers into easily accessible and visually attention grabbing outputs. So we sent off a report and a journal paper on building community capacity to Nat Al-Tahhan who did something amazing and turned it into a visual note for us. And now it's been endorsed by the poster judging panel for the LSE's Research Festival! They said it was great to see academic research presented so effectively and in a great visual way.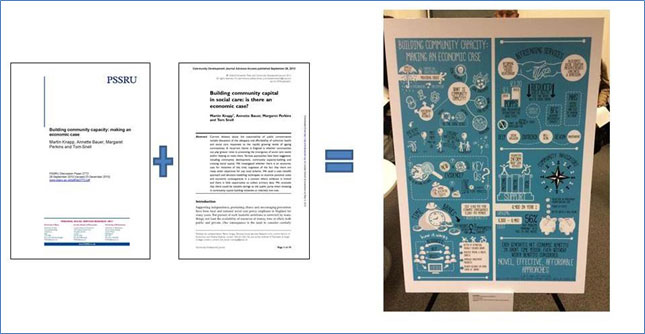 It's amazing what outputs can be produced with high-quality research and we're working on many more. And it's brilliant to have won the prize for best poster at the Festival – it'll definitely motivate us to do some more!
You can download the full poster here, but be aware it is high resolution file!