December 1, 2014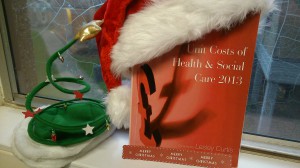 by Lesley Curtis
The Christmas festivities have taken on a new significance for me in recent years, namely that another year of unit costs work is about to be published and that, as our Christmas party approaches, so too does that 15th December publication date! With much of the hard work complete, it is an ideal time to take a step back, to admire the quality of the new articles and to alert readers to new information which will be available shortly. It is also a good time for reflection; what has gone well and how can we improve next year's volume? New procedures need to be identified early so that we have enough time to test and implement them before the year runs away and it's time to get the decorations back out of the loft!
Production
To keep up with the ever increasing volume of health and social care cost data, in recent years we have had to modify and improve our methods of storing and presenting the unit costs work. All the cost data is kept on Excel spreadsheets which are interlinked throughout – any errors in linking could result in an over- or under-estimation of costs and could potentially affect many services. We tweak this process every year and I am proud that year-on-year we make very few corrections to our published report. Next year, we will be giving some thought to the way we make our estimates available, but this will need further investigation as we don't want our costs to be taken out of context, but understood alongside our methods.
The unit costs publication is being downloaded far more than in previous years and it looks very likely that it may be largely down to my newly found Twitter fame (see my previous blog). Another reason, of course, is that more and more services are finding their way into the publication resulting in a wider appeal generally. Currently the costs of more than 130+ services are represented, and even using our strict criteria of taking out services which are more than ten years old and for which no current information is available, the volume is beginning to rival the Yellow Pages.
On the plus side, I've learned a brand new word. The report now has to be split into smaller sections in the preparation phase and is then 'concatenated' to bring all sections together in the final stages to form one document.  To do this, with all the headers and footers remaining intact, is a work of art. I am fortunate that this job doesn't fall to me but the very helpful unit cost fairies! Nevertheless although I love the word concatenate, and no doubt we will be concatenating every year, I feel that in 2015 I really need to try to concentrate the volume of information in some way.
So now I have let you know all our back office secrets and it's time to tell you about the 2014 edition. This year we have secured a great guest editorial, three articles and several new schema. We have had a busy year!
The 2014 edition
Guest Editorial and articles
Guest Editorial: Big data: increasing productivity while reducing costs in health and social care. Pavanraj Jessal, from the National Institute for Health and Care Excellence (NICE) discusses the benefits of 'Big Data' and how this can help unit costs become more precise. He looks at the rationale behind analysing Big Data and provides some examples of how Big Data have been used to increase efficiency.
Costs of integrated care. Martin Bardsley and Andrew Street outline the importance of gaining an understanding of the costs of integrated care (the new buzzword in health care!) for those involved in planning or implementing integrated care initiatives, as discussed in the recent newsletter produced by the Centre for Health Services Studies (CHSS) at the University of Kent.
Shared Lives – improving understanding of the costs of family-based support. Nadia Brookes and Lisa Callaghan contribute to the understanding of the costs of shared lives and highlight where some of the gaps still lie.
RYCT & CSP intervention costs. Jennifer Beecham & colleagues provide the costs of the Remembering Yesterday, Caring Today (RYCT) group reminiscence intervention, which is run in community settings such as church halls. This work was funded under the five year research programme by the NIHR: Support at Home – Interventions to Enhance Life in Dementia (SHIELD).
Other new work this year
We present the costs of a range of new services: timebanks, dentists, advocacy services for people with learning disabilities, the Incredible Years Teacher Classroom Management Program, independent reviewing officers, a hospice rapid response service and two new schema on dementia care homes. We have also added to our care package section with the costs of packages of support and services for children and families on return home from care and the costs of a residential parenting assessment.
Every year we tend to focus on improving some aspects of our routine information. This is cost data which tends to be carried through different schema and includes salary costs, overheads and travel and so on. This year we have concentrated on the capital element of our calculations and have been busy surveying recently procured NHS and local authority run new-builds to see how much over and above the building cost they have spent on things like VAT, sectional land costs, statutory, local authority, infrastructure charges, furnishings and fittings. This was no easy task but in the end the extra costs were consistent with expectations. Land costs have also been updated this year through a piece of work we commissioned from the Valuation Office Agency (VOA).
The costs of aids and adaptations have been on our agenda for a long time (see: White Paper Caring for our future: reforming care and support which sets out a new vision for a reformed care and support system). This year, we have included work which was carried out jointly with Foundations (the National Body for Home Improvement Agency and Handyperson Services). In the not so distant future, I would be interested in including the costs of RITA, an innovation currently managed at the University of Kent. I have watched demonstrations of RITA and have been amazed at her abilities. This is tapping into futuristic technology and is very exciting.
So, now I've told you everything you need to know! The only safe guarded secret is the colour of the publication which will remain a secret until 15th December.

Further useful information
Lesley Curtis is a Research Officer at the Personal Social Services Research Unit.