September 10, 2014
by David McDaid, A-La Park, Eva-Maria Bonin
The economic impacts of suicide are profound, although comparatively few studies have sought to quantify these costs. Updating work undertaken previously by one of the authors, it is estimated that the average cost per completed suicide for those of working age only in England is £1.67m (at 2009 prices). This includes intangible costs (loss of life to the individual and the pain and suffering of relatives), as well as lost output (both waged and unwaged), police time and funerals.
There are also costs to the public purse from recurrent non-fatal suicide events; these are more difficult to estimate, and will vary by means of suicide attempt. One English study indicates that only 14% of costs are associated with A&E attendance and medical or surgical care; more than 70% of costs are incurred through follow up psychiatric inpatient and outpatient care. This is in part because a proportion of individuals who survive suicide attempts are likely to make further attempts, in some cases fatal. There are nevertheless economic benefits from delaying completed suicide as the number of lost years of productive activity will be reduced; overall it is estimated that costs are averted of £66,797 per year per person of working age where suicide is delayed.
In 2011 we were asked by the Department of Health to identify and analyse the costs and economic payoffs of a range of interventions in the area of mental health promotion, prevention and early intervention, and to present this information in a way that would most helpfully support NHS and other commissioners in assessing the case for investment. As part of this report, we looked at the case for population-level suicide awareness training and intervention.
Intervention
Around 81% of working age adults in England come into contact with a GP at least once a year, and there is evidence that suicide prevention education for GPs can have an impact as a population-level intervention to prevent suicide. This has the potential to be cost-effective if it leads to adequate subsequent treatment. With greater identification of those at risk, individuals can receive cognitive behavioural therapy (CBT), followed by ongoing pharmaceutical and psychological support to help manage underlying depressive disorders. Evidence from the US suggests that CBT can help reduce the risk of future suicidal events by up to 50%.
The cost of this type of intervention has several components. A course of ten sessions of CBT in the first year is around £400 per person. Further ongoing pharmaceutical and psychological therapy is estimated to cost £1,182 a year (2009 prices). The cost of suicide prevention training for GPs, based on the Applied Suicide Intervention Skills Training (ASIST) course, is £200 which would mean a total cost of around £8m if delivered to all GPs in England.
Impact
Our model looked at the economic case over 10 years for investing in GP suicide prevention education aimed at reducing suicide among the cohort of working age adults. It was assumed that, without any action, 20% of individuals experiencing suicidal thoughts were at risk of completing suicide within a one year period. The risk of serious non-fatal events in the year following a non-fatal suicide attempt fell from 41.6% to 24.1% as a result of the intervention. The model did not assume any decrease in the risk of suicide in the 10 years after the first self-harm event other than that initially achieved, and that individuals identified as being at risk would continue to receive a combination of therapies to help maintain reduced risk. Based on an earlier study, GPs who go on the suicide prevention training course will have a 20% greater chance of identifying those at risk of suicidal behaviour in the year following training. The model indicated that 603, 706 or 669 suicides would be avoided over the 1-, 5- and 10-year time horizons, respectively.
The analysis of costs/savings included expenditure on health care, police/coroner activities, funerals, productivity and intangible costs. The additional treatment and support costs for individuals who do not complete suicide were to some extent offset by a reduction in the costs to the health care system of completed suicides and serious self harm events, but the intervention had significant net costs to the health care system of up to £19m over 10 years. However, if the reductions in productivity losses are also included then the intervention was cost-saving by a very large margin (see Table), and remains so even if the estimated impact on productivity is reduced to just 5% of the baseline case. Overall, net savings of £1.27bn arise over 10 years if intangible costs are also included. All results are sensitive to assumptions about the future risk of suicide.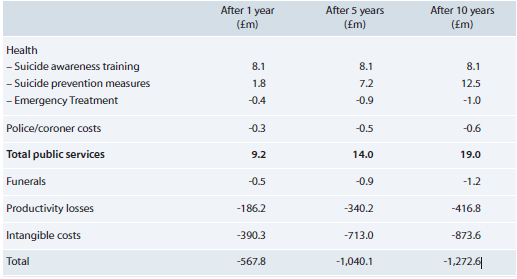 From a cost-effectiveness perspective, for the health system the cost per life saved would be £15,726, £20,438 and £29,235 over 1, 5 and 10 years respectively. Using conservative assumptions about the gain in life and quality of life, this yields a highly effective cost to the NHS per QALY saved of £1,573, £2,044, and £2,924, respectively.
Key points
Investment in GP suicide prevention training was cost-saving overall from year 1 even if only very modest reductions in productivity losses are factored in.
The intervention appeared highly cost-effective from a health system perspective alone.
This post was first printed as a chapter in Knapp M, McDaid D, Parsonage M (eds) (2011) Mental Health Promotion and Mental Illness Prevention: The Economics Case, Department of Health, London.