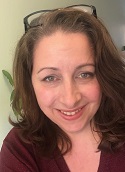 Madeline Naick
Research Assistant
01227 824545
Please note - staff Twitter profiles are personal to the individual, and the views expressed may not be the opinion of PSSRU.
Back to index
Research Interests
Madeline is a Research Assistant at Personal Social Services Research Unit (PSSRU), School of Social Policy, Sociology and Social Research (SSPSSR), University of Kent. She previously worked as a qualified Occupational Therapist in social care and mental health services.
Madeline started her research career at PSSRU with a Building Research Capacity in Adult Social Care Fellowship, awarded in 2016, funded by School for Social Care Research (SSCR), NIHR. This research focused on telecare for older adults and understanding the care navigators' experience.
In the first year of her Pre-Doctoral Fellowship in 2019, she was member of a special advisory group, along with people experiencing homelessness for Improving Hospital Discharge Arrangements for People Experiencing Homelessness, at Health & Social Care Workforce Research Unit (HSCWRU), helping to address issues for people marginalized in society and safeguarding needs for this vulnerable group.
Madeline's particular interest is in marginalized groups, welfare state, social care, older people and gender. Her current research uses a feminist theory approach, exploring gender equality, diversity and social justice.
Madeline Naick's Publications