Kent Research Partnership – Building research capacity in adult social care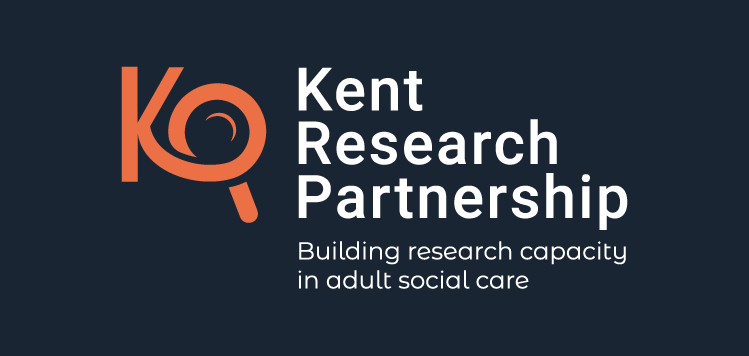 The Kent Research Partnership is one of six capacity building, social care partnerships funded by the NIHR Health Services and Delivery (HS&DR) programme in England. Our four-year programme of work will develop sustainable Kent-based partnerships to support the delivery of high quality social care research on the topics that matter most in our region. Demand for social care in Kent is high. This partnership will improve care quality by investing in and valuing the social care workforce, and developing a culture of research and evidence-based practice and innovation.
What are the aims of the partnership?
The Kent Research Partnership aims to improve the quality of social care by:


identifying research priorities to inform service change from the ground up;


working with staff, users and carers to develop research ideas;


sharing knowledge and resources, through accessible training and workshops;


co-producing and evaluating three high quality projects led by social care colleagues.


What will we do?
The partnership will meet its objectives through four interlinked streams of work.
1. Communities of Practice

Communities of Practice bring together people who have different expertise but a shared goal (e.g. sharing best practice, research and learning) and have been used in health as a means of generating and sharing knowledge and implementing evidence-based practice. Communities of Practice can break down organisational barriers (e.g. between academics, local authorities and providers) to knowledge sharing and practice improvement.

 We are working with the social care community in Kent to establish new communities of practice in year one. These communities of practice will be supported by the project team and will include researchers, practitioners, care providers, people using social care and their informal carers.

If you are interested in being involved in our Communities of Practice, please contact us on:
2. Researchers in Residence

We will recruit two full-time Researcher in Residence posts. One post will be employed by the University of Kent and will be an experienced social care researcher, with experience and interest in evidence-based practice. The second post will be employed by Kent County Council and will be a social care professional/practitioner with an interest in research and building research capacity within the social care workforce.

The Researchers in Residence will support the Communities of Practice, help identify research priorities and support the development and sustainability of a research culture in adult social care in our region. Researchers in Residence will be embedded in all parts of the partnership, running skills workshops, training and learning events and supporting the Research Fellowships.
3. Research and Training Fellowships

We will fund three research and training fellowships to enable individuals working within social care to undertake research training and carry out pilot projects on adult social care priority areas. The fellowships will fund the successful applicants' time and research costs,  including Public Involvement in their study and funding for one open access publication in a peer review journal and one UK conference. Fellows will receive support and mentorship from the wider project team throughout.
4. Knowledge Sharing and Impact

As well as academic outputs, such as peer review publications and conference presentations, we will be supporting wider impact through; online training and resource kits, fully funded research and training workshops for practitioners, research fellowships, newsletters, lunchtime seminars/webinars and a showcase conference. Project collaborators include the Applied Research Collaboration Kent, Surrey and Sussex, the National Care Forum, the UK Home Care Association and the NIHR Clinical Research Network to ensure learning extends beyond our region. We also have strong links to the other successful social care partnerships across England.
The project protocol can be downloaded by clicking this link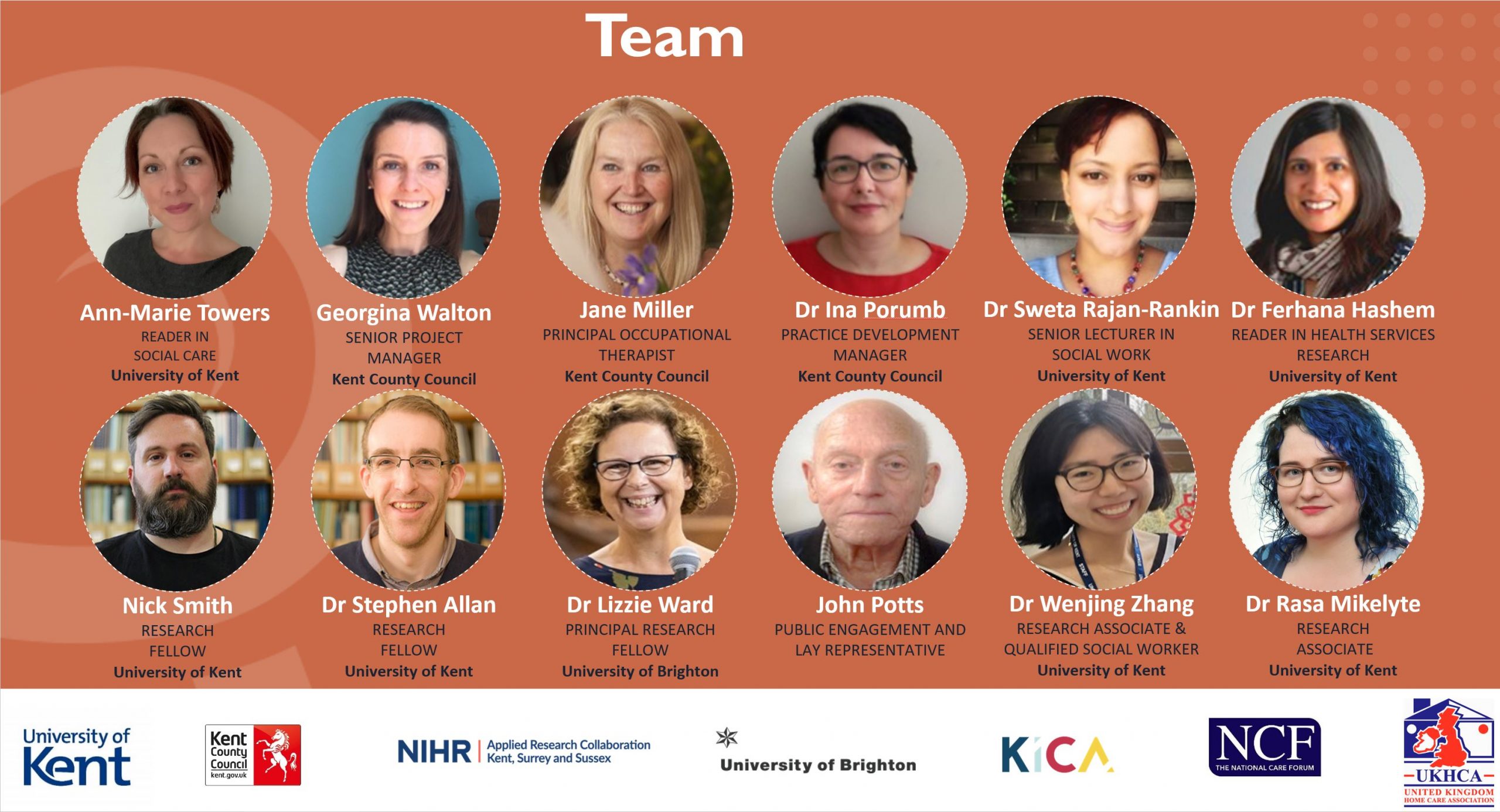 The description of the role of member of the working group is available to download by clicking this link.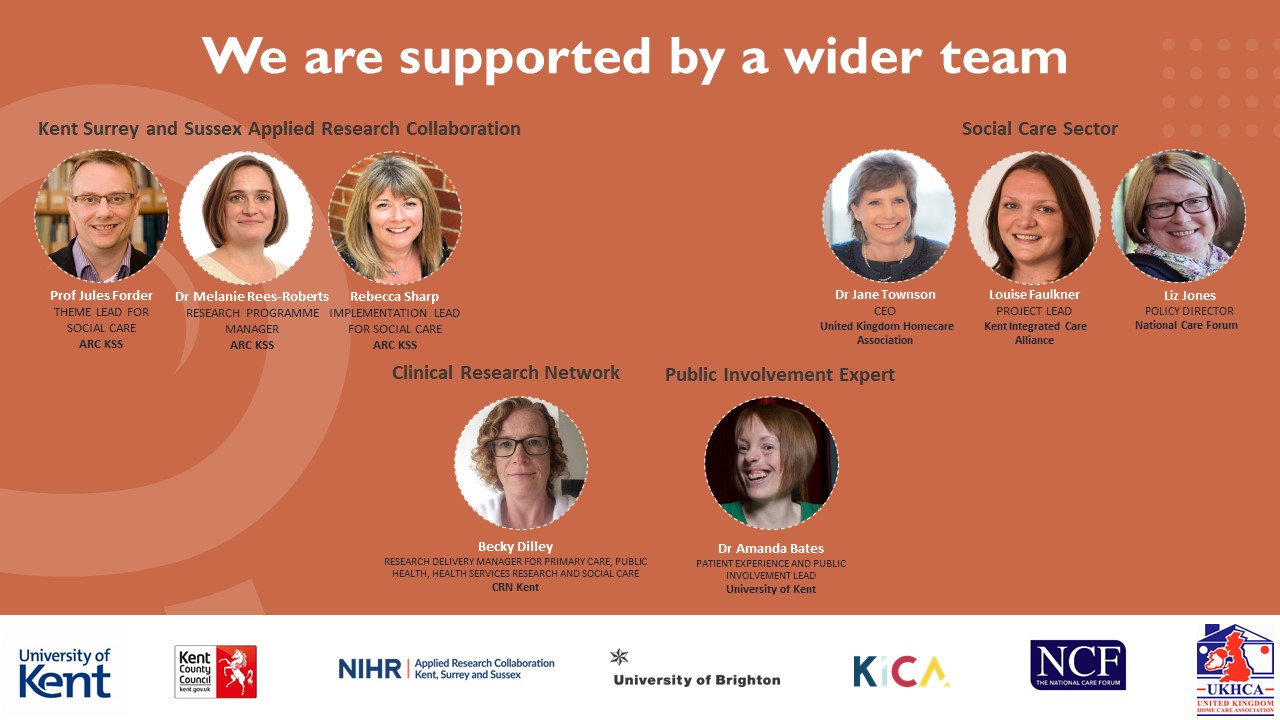 Public Involvement and Engagement runs through every aspect of the Kent Research Partnership.
Working Group
Led by Gina Walton (Kent County Council) and John Potts (lay co-applicant), with support from Dr Amanda Bates (University of Kent), a public involvement and engagement working group will be established consisting of 8-10 members of the public, people using social care and their informal carers.
The group will jointly agree its values and principles and how it will support the aims of the partnership. We expect the working group to be involved in the following ways:
Help agree strategic research priorities for the partnership priority setting.
Consult on themes and activities regarding Communities of Practice.
Review fellowship pilot projects and partnership funding applications
Support wider dissemination.
All working group members will be paid by Kent County Council for their time at INVOLVE rates (£150 per day or £75 per half day).
Study steering committee
In addition to the working group, we will recruit a service user, an informal carer and a member of the public to the study steering committee. Supported by Dr Amanda Bates and Ann-Marie Towers, steering committee members will be paid by the University of Kent at INVOVLE rates to prepare for and attend the steering committee meetings across the four-year partnership project.
 Support and training
The Innovation Delivery Team at Kent County Council has been testing a new training scheme with Health Education England, which blends insights from leadership psychology and communication with techniques used by professional performers. This one day training course can help Public Involvement and Engagement representatives feel more confident in multi-stakeholder meetings and events. Budget has been included for all members (working group and steering group) to attend this training if they would like to.
 Evaluation
We will keep a record of all Public Involvement and Engagement meetings and decisions, as well as a log of involvement and contributions to partnership aims and work streams. During the study, working group members will be invited to contribute to outputs and dissemination by writing blogs on their experiences or speaking at events. At the end of year three, the public involvement contributors, Researchers in Residence and research team will each write a reflection of their experience of public involvement and engagement, the impact it has had on the project and how it could have been improved. These accounts and perspectives will be co-authored as a research output in year 4 and submitted to an academic journal.
Public Involvement and Engagement in the Kent Research Partnership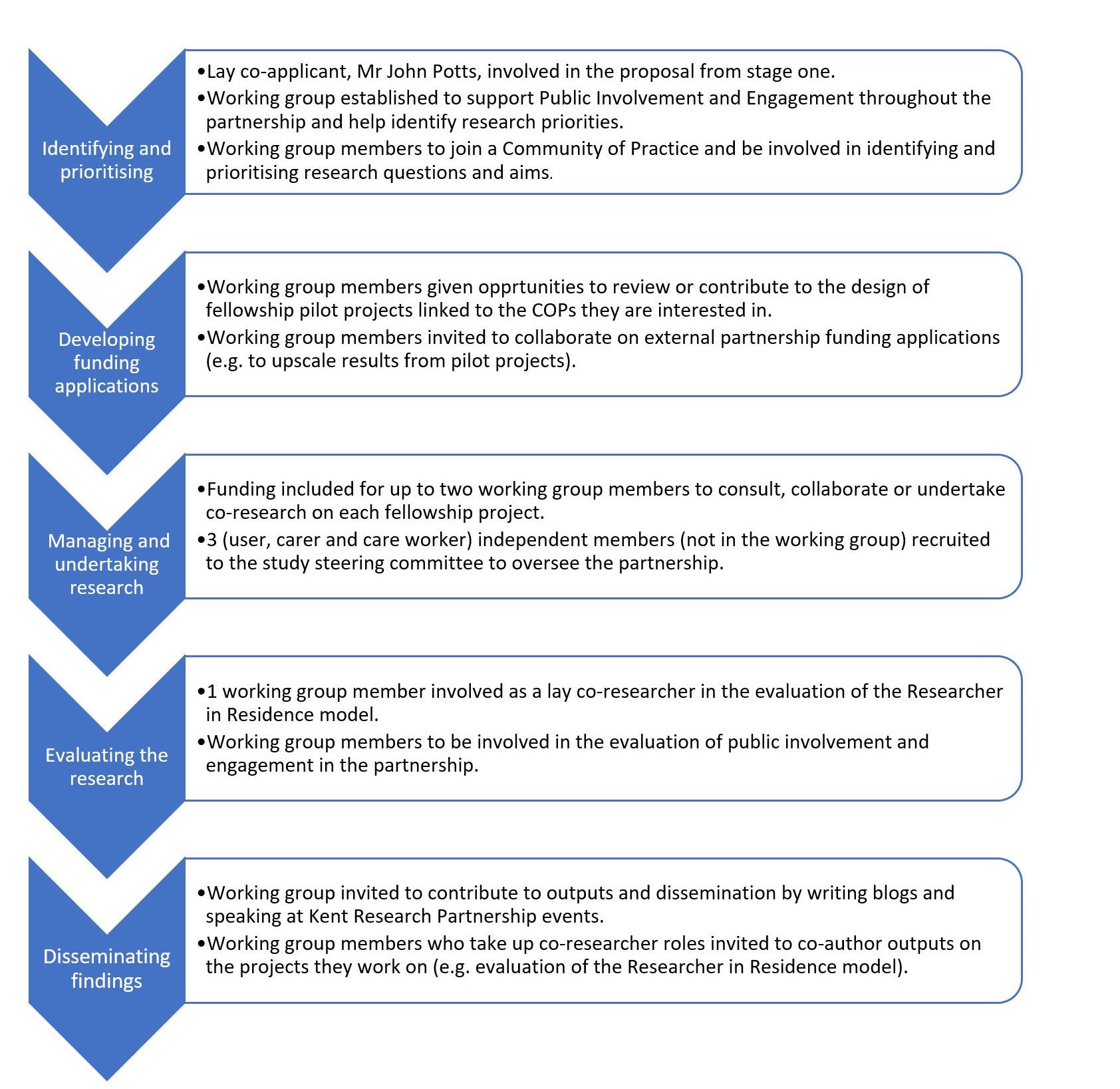 The description of the role of member of the working group is available to download by clicking this link.
| Output type | Title | Authors | Year | Journal/Book/Conference title |
| --- | --- | --- | --- | --- |
| | | | | |
| | | | | |
| | | | | |
| | | | | |
| | Kent Research Partnership Blog |
| --- | --- |
| Blog 1 - February 2022 | |
| Blog 2 - March 2022 | |
For more information or to get involved please contact the Kent Research Partnership team on  


You can also contact the project leaders below:



Ann-Marie Towers Reader in Social Care, Centre for Health Services Studies, University of Kent, Canterbury


Georgina Walton, Senior Project Manager, Innovation Delivery Team, Adult Social Care, Kent County Council


Follow our progress on the project twitter account: @ResearchKent
Hits: 467